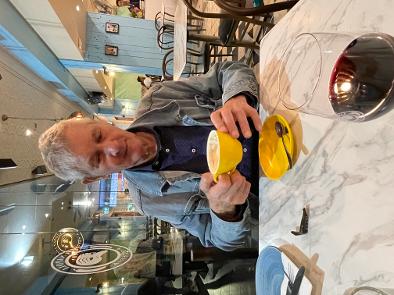 Hello, I'm Paul and I love my music, just as you love yours. It is so satisfying to pick up an instrument and play your heart out.
To be honest, it is a thrill at first just to get a noise out of it. And a thrill when it starts to sound good to you. And again, when it starts to sound good to other people and you can join others playing my favourites, and then, even better, your favourites.
It's satisfying and it's fun...even thrilling.
In these pages I will load more information and resources to amuse and educate.
Best wishes, Paul.
PAUL HEALTH UPDATE:
Dear friends, on June 2021 I was admitted to hospital for symptoms which turned out to be lymphoma Stage 4. The chemo that cured me also left me with hand and foot problems. I have ceased teaching in schools but currently teach from home in Camberwell. I have made small but steady improvements in the last twenty months.
FLUTE: The silvery, supple flute sings like a bird and looks elegant as it soars in the high register, balanced by its exotic low register. It is a leading voice in bands and orchestras with a technique which is not overly demanding.
CLARINET: The clarinet has a wide range and springs from a woody low register to the smooth, expressive purity of the upper register. It uses a reed and requires a little more muscle to play.
SAXOPHONE: The saxophone is closely related to the clarinet and those who do well on clarinet usually make a smooth transition to the golden saxophone. It is versatile from classics to smooth jazz, soul and rockabilly.
BASSOON: This fascinating instrument is the "soul of the tree" and its dark low register is satisfying and effective. At the same time, it is a superb orchestral melodist, creating a wide range of colours in its three and a half octaves.
RECORDER: The humble recorder has enjoyed a deserved resurgence in recent years, and offers joys and delights undreamt of in previous generations. With correct fingering and modern teaching aids, it is a delight.